Non-Shifting Premium Hajj Package 2024 from Bangladesh
Hajj is an obligation for those who are physically well and can bear the travel expenses financially. Each year Muslims from around the globe get together at Makkah irrespective of background to perform Hajj, one of the biggest human gatherings in the World. So, if you are the fortunate one invited by Allah (SWT) to perform Hajj. Then it is your responsibility to look for the best Hajj package.
One thing which is necessary and of great importance to understand is to choose the package which goes well with you the best among Shifting and Non-Shifting ones. It is necessary to understand the difference between these two types of packages.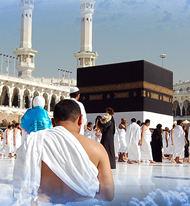 Premium Hajj Package, 28 Days
Hotel in Makkah(Distance 400-600 Meters from Haram Sharif) & Madinah(300-400 meters)
Meals (3 Times)
Sharing Room (4 Persons)
Excluding Kurbani - (If required minimum of 800 SR will be added)
Non-Shifting Hajj services have been given below
Pilgrims leave Bangladesh for Jeddah. From Jeddah, they are guided to the hotel in Makkah close to Haram. Pilgrims will live in this hotel until they leave For Hajj on the 7th/8th Zill-Hajj. Then come back to the same hotel after Hajj (12 Zill-Hajj). The hotel room is accessible before, during, and after Hajj.
During the days of Hajj, the pilgrim's access to their hotel room. After Hajj, the travelers stay in the hotel for a few more days. Then depart for Madinah and then fly back home.
Major benefits of Non-Shifting Hajj Packages
No hotel shifting as it's called
Keep on only one hotel both in Mecca and Madinah
Having more time to pay out in Kaaba Shariff
Generally staying very close to the Harams in both Mecca and Madinah
Avoiding unnecessary sound of Hajj period
We would be delighted to provide you with an exceptional Hajj experience this year. Please contact us today so that we may assist you in joining the best hajj group.
Looking for the Package detail?
Feel free to send us a message. You will get package details from us within a very short time! In Sha Allah.
---