Affordable Hajj Packages 2024 from Dhaka, Bangladesh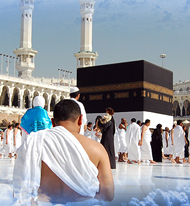 Air-ticket: Round Trip
Hotel in Makkah: Distance approx. 600-800 meters from the Haram Sharif
Hotel in Madinah: Distance approx. 500-700 meters from the Masjid an Nabawi
Accommodation in Aziziah: • Standard Hotel Near Jamarat for 5-7 Days.
Meals: 3 times Bangladeshi Food
Sharing Room (4:1)
Excluding Kurbani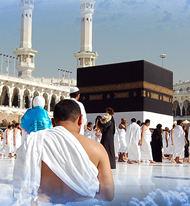 Air-ticket: Round Trip
Hotel in Makkah: Distance approx. 300-500 meters from the Haram Sharif
Hotel in Madinah: Distance approx. 200-400 meters from the Masjid an Nabawi
Accommodation in Aziziah: • Standard Hotel Near Jamarat for 4-6 Days. • AC Tent in Mina & Arafat
Meals: 3 times Bangladeshi Food
Sharing Room (4:1/3:1)
Excluding Kurbani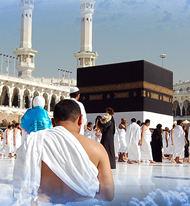 Air-ticket: Round Trip - Early back
Hotel in Makkah, Madinah & Aziziah: Customization available
Meals: 3 times Bangladeshi Food
Sharing Room (4:1/3:1)
Excluding Kurbani
Holy Tourism | Your trusted Hajj agency in Bangladesh
We have been providing hajj offers to pilgrims from Bangladesh since 2008. We are the best-registered organization hajj group for pilgrims of Bangladesh.
Every year we organize and manage hajj and hajj-related services with the best & quality performances, for approximately 1000 Muslims planning to perform hajj from all over Bangladesh by the best & experienced trainers (MuAllims).
We divided the hajj packages into three types depending on pilgrims' perspectives and tastes so that our respectable pilgrims can choose the package according to their taste. The general Hajj Package consists of return airfare, all ground transportation, accommodation in Mecca, Medina, and Mina, food arrangements, and a Ziarat tour in Medina. Our group along with our group leader departs from Bangladesh.
Why Do People Accept Our Cost-effective Hajj Packages?
Holy Tourism Bangladesh is an authorized and approved agent by the Ministry of Religious Affairs in Bangladesh. We are the leading and trusted worthy brand to provide the cheapest Hajj packages including, visas, flights, hotels, and transportation. Take the best potential facilities included in competitive packages with shifting and non-shifting accommodation options and comfortable transportation.
Perform Hajj in a comfortable manner and save money at the same time by opting for the best Hajj. We seek every opportunity to provide low-price deals including the best amenities. we always provide you with the perfect location as per your reservation.
Looking for the Package detail?
Feel free to send us a message. You will get package details from us within a very short time! In Sha Allah.
---
Advantages of Choosing the Holy Hajj Package
Perform the hajj in the right way
Complete package with all necessary things that are related to hajj
Having performed hajj with an experienced muallim
Shifting, Non-shifting and customization is available
Saving money at the same time by opting for the best Hajj
Local and delicious dishes which includes fruites and fast-foods also
We would be delighted to provide you with an exceptional Hajj experience this year.