Most Popular Hajj Packages 2024 from Dhaka, Bangladesh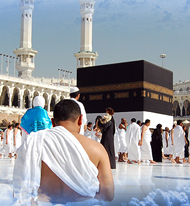 Air-ticket: Round Trip
Hotel in Makkah: Distance approx. 600-800 meters from the Haram Sharif
Hotel in Madinah: Distance approx. 500-700 meters from the Masjid an Nabawi
Accommodation in Aziziah: • Standard Hotel Near Jamarat for 5-7 Days.
Meals: 3 times Bangladeshi Food
Sharing Room (4:1)
Excluding Kurbani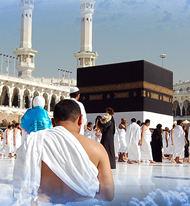 Air-ticket: Round Trip
Hotel in Makkah: Distance approx. 300-500 meters from the Haram Sharif
Hotel in Madinah: Distance approx. 200-400 meters from the Masjid an Nabawi
Accommodation in Aziziah: • Standard Hotel Near Jamarat for 4-6 Days. • AC Tent in Mina & Arafat
Meals: 3 times Bangladeshi Food
Sharing Room (4:1/3:1)
Excluding Kurbani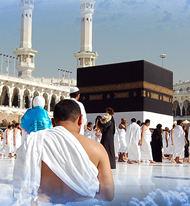 Air-ticket: Round Trip - Early back
Hotel in Makkah, Madinah & Aziziah: Customization available
Meals: 3 times Bangladeshi Food
Sharing Room (4:1/3:1)
Excluding Kurbani
Your Trusted & Govt Approved Hajj Agency in Dhaka
Everybody is facing some types of problems that may be pre-activities which eventually become a barrier in the way of performing the pilgrimage. Most citizens don't know how to apply for visas & passports at the right time or the right place in the right manner to get their visas & passports done in time. In this way, most of the brothers and sisters hang about failed to get their packages booked in time and they can't become suitable to fulfill their dreams of performing Islamic pilgrimage.
All-in-one hajj solution package from Bangladesh
As a solution for all these kinds of problems, it has been offering to guide and provide you on the topic of the packages and application of your visa, tickets & passports and we will absolutely help and consult you out in getting your visas & passports ready in time. We better know how to resolve these problems of late submission of the Hajj application, financial restrictions, lack of proper documentation, preregistration, and other similar issues.
Our main focus is on providing cheap Hajj 2024 packages for the spiritual fulfillment of our customers rather than on our business receipts. If you choose the services of The Holy Hajj & Umrah, there will be no trouble at all on the topic of your hajj flights as we set a good example and new values of the good organization in delivering low-priced travel in the Saudi region (INSHA ALLAH).
We guarantee you that the flights we offer are of the lowest fares. Our flights will be on time and we will find out that our air hostesses will afford you friendly services. You will be severed refreshments for the period of your flight in an airplane.
Looking for the Package detail?
Feel free to send us a message. You will get package details from us within a very short time! In Sha Allah.
---
3-Star, 4-Star & 5-Star Hajj Service Provider in Bangladesh
We provide an arrogant pick and drop facility during your Hajj tour at Saudi airport. The most well-known feature of our pick-and-drop facility is that our transportation facility will be more timely economical and safer. Our specialist team knows all the routes and alternative routes for your safe arrival at your reserved housing under the management of our approved travel agents. This conveyance facility can be integrated in your Hajj packages 2018 on demand. After the successful conclusion of your Hajj trip, you will be dropped back at Saudi Airport again so that you can safely come back to your country
We would be delighted to provide you with an exceptional Hajj experience this year. Please contact us today so that we may assist you in joining the best hajj group.